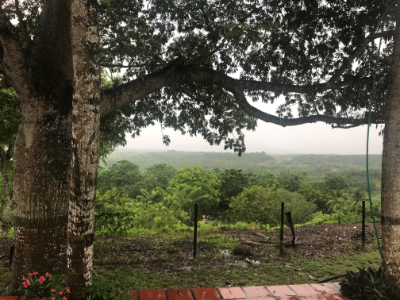 Another nice day in Cartagena. This is the second day that has been overcast. That is a blessing. The sun rises around 6:15 and does not quit all day. No question that we are closer to the sun here. Temps are in the high 80s and to walk outside with the sun beating down on you is brutal. So we are enjoying these two days. We can't help wonder how the locals work in it every day. Some walk the beach all day selling their wares or offering massages. There are thousands of people standing on the hot pavement, pamphlets in hand, soliciting for restaurants or tours. Others spend the day in the sun as street cleaners, construction workers or vendors. We don't see them walking around with water bottles and wonder how they can work in that heat all day and not get dehydrated.
Another thing that we can't figure out is where the Venzuelians are.  Cartagena is much, much closer to Venzuela than Medellin or Cali, yet homeless, mostly Venzuelian, can be seen all over those cities.  We have been from one end of Cartagena to the other both in the day and in the night and haven't seen one homeless person.  Hmmmm . . . . . . .
Later in the afternoon we went to Edie's house for lunch which is their big meal. Edie's wife Karen prepared a typical Colombian meal beginning with a lovely fish soup. The main course was a plate of fried fish, rice, avocado, and fried plantain. Another brother from the church was asked to join us and act as the interpreter.
From there we went to the church for the final class of the week. One delightful sister who greets us each night with a broad smile came up to us with a gift in hand – a boxed cake that she had made. With pride she presented us a cake that read "Organic, no wheat or sugar." This young lady and a friend started a cake business that now employs 10 people! It grew strictly through the internet. They deliver each cake with pride.
Tomorrow we will get picked up at 7:00 for a full day at a retreat house outside the city. The topic is Biblical Sexuality. We have been to other retreat houses and enjoy them. They are typically in rural settings with none of the hussle and bussle of the city.