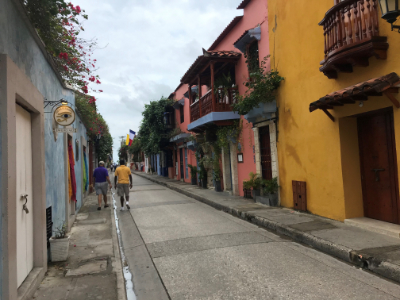 Having a wonderful day. Alex picked us up at 8:30 this morning and gave us a tour of the city. There are really three Cartagena's: the colonial walled city which continues to be restored, the tourist beach peninsula and what they call "the real Cartagena" where most people live. The church is in the "real" Cartagena and this is where we go every evening and for Sunday worship. Today we went into the walled city, a defense post from the 1500's that took 100 years of slave labor to build. It is about 1 mile long and 1/4 mile wide. We toured historic churches, past government buildings and colonial houses. "Pictures are worth 100 words," so I will send you some. Alex owns his own family- run tour business and consequently knows 1/2 of the downtown vendors and business owners. We ended the tour at a Juan Valdez coffee shop where we were joined by Pastors Eddie and Jose. For over two hours they discussed church discipline with Don exchanging examples and actions. It was an excellent and beneficial meeting. Everyone was thankful for the opportunity.
It's 4:00 and we are about ready to get picked up for this evenings meeting. There are many young people there which is very encouraging. I have met another "soul" sister who, like me, tries to determine where the best location in the room is in order to avoid the fans and the air conditioning. It's 90 degrees here and no one has air conditioning in their home. We can't understand how so many can work in air conditioned hotels, restaurants, etc. and then sleep in non-air conditioned homes. They tell us that it doesn't bother them. – Just like it doesn't bother the women to wear long pants and jeans!
Please give our love to the Walkers as they visit this weekend. Sorry to have to miss them. Their letters are always so encouraging.