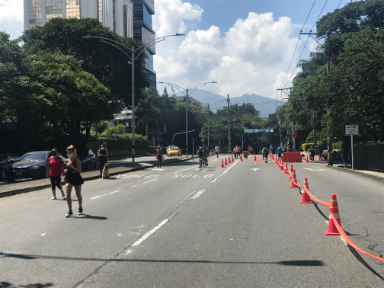 Today, Monday is a Colombian holiday. There are over 10 "official" holidays in Colombia, all celebrated on Monday. That means that at least once a month everyone has off a Monday. Added to that are local holidays, celebrated on Monday as well. Then there is the Christmas season which last for over a month and there are days off for that. So exactly what holiday this is, I don't know. My guess is All Saints Day or it could be Halloween because there were tons of people dressed in some very elaborate costumes- children, adults, teens and dogs. The party busses were out, those open air busses with a bar in the center that roam the streets all night filling the night air with sounds of roisterous celebration. The last bus I heard rolled around our hotel at 4:30 am.
But this morning all was calm. On Sundays and holidays they block off 1/2 of the streets in the morning for bikers, joggers and walkers. With all the hills around here, we fell into the third category. It was lovely. The sun was shining, the temps in the low 70s and there were lots of people out enjoying the morning. From old to young there were children learning to ride bikes and old men peddling along. Intermittently there were musicians, vendors peddling everything from fruit drinks to dog treats and EMTs stationed every so often waiting to take action should there an emergency.
When we got home from that walk we met with Steven and Majorli. You probably don't remember the details of Steven's life from my past writings. Briefly, his father was a Pentecostal minister who was not pleased with his desire to go to the seminary. As Steven began to learn more and more from scripture, he was convicted about leading worship in his father's church because he did not feel that it was God honoring. He would play in the morning and repent in the afternoon until he could stand it no longer. Fast forward two years- Steven has been in contact with his parents throughout those two years. (They had practically disowned him). He even went to help his father in the church during that time. Today he showed us a picture that his father had sent him of himself watching a video of a Reformed teacher and he told his son that he was preaching on the 5 solas! How exciting is that!