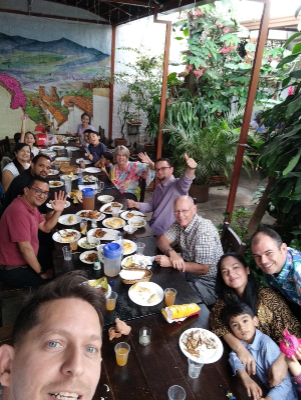 Spent the afternoon with a group of pastors and their families. We went to an Arab restaurant. Unbeknown to us, Colombia, at least in Bucaramanga, has a substancial element of Muslims.  So that answered our question as to why we were seeing so many Arab restaurants.  The specialty of the restaurant was cooked lamb, a particular type of lamb. They describe it as a goat-lamb or summer lamb. It has the face of a lamb but short hair like a goat. It was good. The side dish was rice with minced goat intestines.  That was not so good.  They also served boiled yucca and avocados, a staple here.  We had to pass on the salad not knowing what could be on the leaves.
Attending the luncheon was pastor Joscar Chirinos and his family (two young children from Venzuela.  They drove 17 hours winding through the hills and mountains with his wife and two young children to come to this training.  He told us  that there are only 6 Reformed pastors in all of Venzuela! He pastors two churches, one with 40 members, the other with 60.    He is also the SRL coordinator for Venzuela.  We talked about the plight of Venzuela and the church.  He would be the man on the left side of the table in the black shirt and mustache. His wife is behind him in the white shirt.
The man in the forefront of the picture with the blue eyes is Yovani Gomzoles, His ancestors came to Colombia about 200 years ago and still live in community here.  He labels himself as Gypsy but but did not come from Romania.  We are confused. He pastors a church of "gypsys"  in a town which I believe is near here called Heron.  His church is just coming into the Reformed understanding of scripture from, you guessed it, the health and wealth framework. His church has 300 members! He too has in-laws who are are health and wealth pastors. The greatest difficulty he is facing is trying to implement a biblical government in his church.  His second most challenge he says is his own sinful self. 
Zamir Asevedo, the man across the table from Don in the red shirt, pastors one of the churches planted by pastor John Sandoval in an area near Bucaramanga.
Pastor John Sandoval is "thumbs up" sitting in front of me. He is the one moving to Bogota.
I'm sure our interpreter had to rest after that meal. His name is Diego and he is wearing the multicolored shirt in front of Don