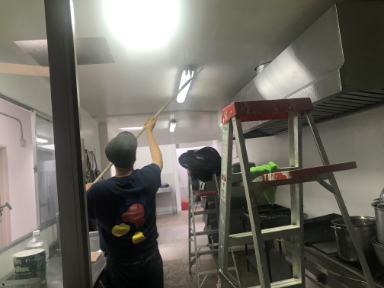 The fella in the picture is Marcos.  He is a student/chef/painter from Medellin in his senior year at SRL.  Having finished his classes, he has only to write his thesis which is going to be on Romans 1,2 and 3.  Marcos is a perfect example of how the gifts of the students are used in the seminary.  They all have jobs to do.  As a result, the place is looking really good.  Walls are freshly painted, tables have been refinished, and there has even been some decorating touches.  Somebody has a little flair around here.  Marcos actually has gone to school to be a chef – and what a difference it has made in the meals!  Past dinners were beans and rice or hotdogs in rice, or chicken and beans – and little to no vegetables -you get the idea.  Last night we had a burrito stuffed with shredded meat and rice (you can't leave out the rice) with a side of salad that had boiled egg and avocado.  He even had it arranged on the plate cut on an angle presenting the inside up.  It was good!  
Before dinner he started spackling and painting in the kitchen and continued until 9:00 pm. That was after preparing breakfast, lunch and dinner for 30.
I was able to go to the market with him and another student this evening. What an experience that was! It is difficult to describe and any picture just wouldn't do it justice. There is a certain section of town, near to the seminary that has a great number of open air markets. The stores are open to the throngs of people crowded into the streets and stores. All of these open air markets are blasting music and the traffic is practically on the sidewalks. There's hardly room to move. We were buying food to feed 30 people for about 10 days. We bagged it ourselves in rice sacks the size of potato sacks! The oil came in 6 gallon drums! To get home with this stash, we had to find a taxi large enough to fit it all! – no easy task. The streets are stuffed with taxis but they were not available or didn't want the job. The shopping area actually has a woman whose job it is to find taxis for people! So, from routine shopping in the area, you find out who she is and then track her down on the street when you are not able to find a taxi yourself. If she finds you one, you pay her. The challenge is then to get the stuff in the car without getting hit by a car or motorcycle maneuvering through the mess of metal and people.
While shopping I was amazed to see that many of their prices were comparable to US prices. I can't figure out how they do it. Few things were cheaper than the US
Earlier in the day I got into a long conversation with Benjamin the videographer and Christian who is in charge of the 350 virtual students! That number is expected to double this coming year! And there is no money to pay for the additional staff needed. That means that they will have to turn away virtual students. This year they turned down 100 students who wanted to attend the seminary in person. There's not enough room or staff. SRL recently held a virtual conference that was attended by over 200,000! Half way through they showed an ad for the seminary and in 10 minutes received 325 texts inquiring about the seminary, expressing interest in attending, asking questions about the topics covered, etc. which was great. However, they don't have the staff to respond to the inquiries. The need is great. "The harvest is plentiful but the workers are few."
They have the workers, but no funds to employ them.