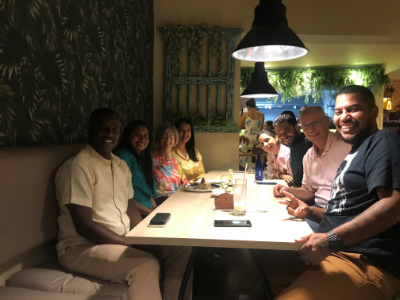 Don had a great birthday! We are in Cartagena for a few days of rest. While here Don wanted to check up on the Presbyterian church here in Cartagena. So last night we had dinner in the Old City with Pastor Eli and his wife Caren, Pastor Jose and his wife Leseda and ruling elder Alex and his wife Merci. We had a blast. The two pastors are young, in their 30s; Alex and his wife are in their early 50s. Alex, whose English is excellent, acted as our interpreter. Pastor Jose can read and write English but is challenged to speak it. It's going to be interesting because we are going to spend the day with them. We'll do fine – and laugh a lot. They are a laid-back group, fun to be with, any very knowledgeable about the scripture, theology, and Presbyterianism. Jose is one of the online graders for SRL. You know us – we talked about culture, the Church, the role of women, economics, personal challenges, what their gifts and burdens were, politics, etc. We left the Old City at 11:00 pm and could have gone on for hours.
At one point when we were talking about being Presbyterian I asked "so do you dance," faces aglow they responded "yes, and we drink!" So you can see how the evening progressed!
Today I will get more of the testimonies.  So far we've learned that Alex and his wife got married when she was 18 and he 21.  He was a cocaine addict for the first three years of their lives.  They have 6 children!  That is unheard of in Colombia!  He is 52.  His parents were brought to Colombia as slaves from Africa.  He presently runs a tour company with his children.   While they could be living in a class 3 area, they choose to stay in class two because that is where they grew up and that is the people they want to minister to.  During the pandemic Colombia was shut down for 8 months.  He and his family had no work; they had no means.   He said "we ate because of the ocean during that time." 
They all have a heart for Evangelism. Pastor Jose travels to the outlying towns and villages and preaches the gospel in the streets. I saw a video of him standing on a dirt road, microphone in hand, pulpit to his right, preaching the gospel. Their church is now up to 130, one of the largest Presbyterian churches in Colombia. They lost several families during the pandemic who had to move to other countries just to eat.
So thats the scoop for now. More to come.