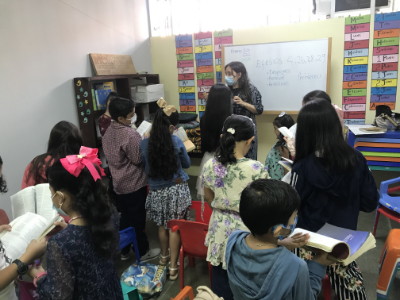 So, yesterday went well. The sermon was very good and the couple we met on the plane came to church! She was an mk to missionaries in Venezuela. So she spoke excellent Spanish. Her husband spoke as well. They really enjoyed the service and were Very Impressed with Ronaldo the translator. (I told you he was good!) Don can get away with using idioms with Ronaldo and he doesn't "skip a beat" in translating them. He actually goes to another church. But they made arrangements a month ago to have him come.
In between services they have SS class. We were invited to the children's class that Sarah, the home school mom teaches. She teaches a class of 5-10 year olds! Take a minute and think about that. It was amazing! We were exceedingly impressed not only to watch Sarah go through the beginning part of Ephesians 4 with 5 year olds, but the response and comprehension of the students. Let me say that they had a recap of what they had been studying in Ephesians so far, so that is where some of these answers were coming from:
Question: what are we to put off and put on?
Answer:  From a 5 year old girl! –  We are to put off the old man, the part of us that wants to sin and put on the new man that wants to please God
From a 7 year old boy- it's like a snake shedding it's skin.  He leaves the old skin behind.
Question: Why does the passage say to not let the sun go down on your anger?
Answers:  It's ok to get angry at times but we can not keep that anger.  So you don't go to bed still feeling angry.  
My parents had a fight before church this morning and I am going to go home and tell them this scripture.  
There is a difference between getting angry because you don't get your own way and being angry when something wrong is happening.   
Arbitrary, unprovoked comments:
from about a 4 year old: my aunt is going to have a baby and it is going to be born wicked.
Another chimes in: We are all wicked until we come to God. He washes away our wickedness. We can't wash it away ourselves, only God can do that.
Another adds: God chose us to wash away our sins
I could go on and on! The theology and understanding of these little ones was amazing! And they didn't have to be coaxed in the least to participate! We just sat there with our mouths open, being blessed. No mistaking, these kids were being taught at home. The approach is: They sit through the sermon with their parents, then go home and discuss it. Throughout the week it is further explained, other scriptures are brought it, the theology behind it is taught and then it is reviewed each week in Sunday school. No need for curriculum. And the kids are learning!
Later, after class let out, Sarah and I were talking. She said, We have so much to learn from you." I was ashamed and could only truthfully respond, "No, we have so much to learn from you."
And now A Tale of Two Athiests
While we were at Gracia (Gracia de Dios) church, God was moving at another church in town as well. Our interpreter, Ronoldo has a friend who is an atheist.  They have had many a lively discussions about God,  religion, etc.  Ronoldo  has been inviting him to church.  He decided to attend this past Sunday. It so happens that  Ronoldo has another friend who used to be an atheist before he came to Christ about 5 years ago.  Normally Ronoldo preaches at his church but of course he was at Gracia interpreting for Don this past Sunday.  So he asked his friend who is a Phd in microbiology to preach for him.  While we heard it wasn't a great sermon, it was a excellent lecture on creation and intelligent design and God used it in the life of this dear  friend.  With enthusiasm he told Ronoldo he now has no doubt that there is a God and that he will pursue who He is and the claims of Christ. I love being here!