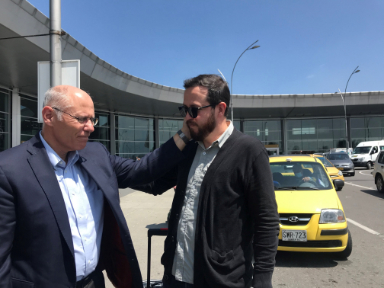 Said goodbye to Mari and Michael yesterday.  Had a wonderful time with them.  Don's time with the church on Thursday night went well.  The topic was marriage and there were lots of questions.  It was interesting to me that both young and old attended.  
Today we are in Santa Marta, an interesting city. It is on the coast which means there is a tourist area along the beach. Over a small mountain is the town which includes an historic district. This is the first time we have stayed in the historic district. The architecture is Spanish, and like all cities, it is congested. There is a medley of locals, tourists, vagrants, and vendors. It's safe to go out during the day, but not at night. Doesn't bother us because we will be at the church every night.
Met last night with several elders and their families for dinner and questions. It was great to see Edison and his family; he's always so happy, .
The hotel where we are staying is quite unique. I will have to send pictures. We were awoken by the sound of pigeons cooing this morning as they landed on the outer banisters throughout the hotel. The intricate colonial design accentuates all the natural compositions of the area and the influence of the conquering Spanish.
Have a great day!
Pictures: Above — Saying goodbye to Michael; Below — Last night at church