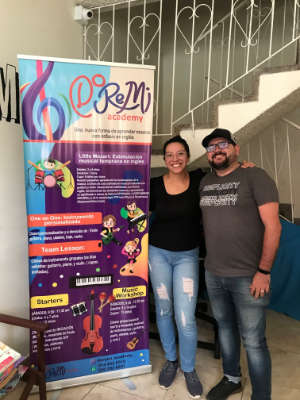 Had a very good meeting last night. I was surprised to see about 50 people at this seminar for Elders. Woman too came. It was the same tonight.
Before going to the seminar we spent the afternoon with Camila and Sergio, a couple in their late twenties. Sergio is attending the class and also taking classes through SRL to perhaps be an office holder in the church. Both Camila and Sergio were raised "in the church," she Pentecostal and he charismatic. . . . . The same old story- no Bible teaching. The emphasis of her church was all about what you wore, (skirts only), the length of your hair, etc. It was all about the money in Sergio's church.
So both of them were wondering why we were having the Saturday conference at a large charismatic church. Well, it turns out that the conference is going to be held at the church of Diego's in-laws.  His father-in- law is the pastor and his mother-in-law the pastora. But his mother pretty much runs the church because his father runs a company. The Elders decided to have it there because it can hold a large number of people and have the people of that church exposed to biblical teaching. Please pray with them. 
Sergio and Camila started a music school in their home called DoReMi Academy. English class is included in the academy. They have about 45 students ages 4-14. Details are too plentiful to write. We couldn't help but think of Ron and Glenda. They Love teaching the kids. Students come from all over the city. They teach the catechism at the beginning of every class and then reinforce it in songs! We asked if the parents knew what they were doing. Yes, they tell them before they enroll the student. So far they have had no problems. In fact, they have the children sing the catechism to the parents at their concerts! How awesome is that!
So, we left their home to head off for the seminar with a smile on our faces.
Below are a few music rooms: