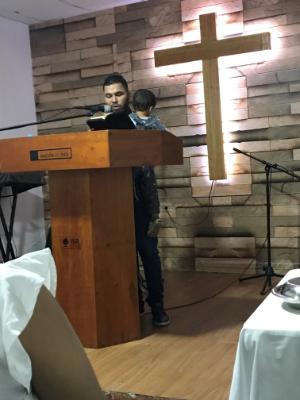 It's Sunday morning! The sun is up and starting its work to warm the skies to 90 degrees. The humidity is rising, and the vendors are setting up their carts laden with insulated jugs of tinto, black coffee. The takers huddle around the cart, one hand wrapped around the plastic cup of coffee, the other holding a fried empanada filled with egg or cheese or both. They are getting fortified to start their day.
I'm sure that the vendor that tried to rip me off yesterday, well actually did rip me off yesterday, starts his day on tinto and empanadas. I was thrilled to pass by his stand and notice that he was selling Iphone covers. Mine is an ancient 7 series and the covers are hard to come by. Mine is falling apart. He started at an astronomical 35,000 pecos. I wanted to get it for 10,000. We settled on 25,000, far too much but I rationalized that his family had to eat. We both left happy.
Last night was a conference on the Reformation. It was put together by 5 or so pastors around Cartagena. It was so nice seeing them work together for the edification of the church. We met in a concrete room on the second floor of a sort of alley mall. A door opens to the street and there behind it, surprise! There is a two story, long corridor mall with shops/spaces lining the walls. Don got the jitters just anticipating the noise that would be coming from the electric band stationed in the front. He was right. I'd say the room was about 12X20, packed with around 100 sweating people and one wall air conditioner. Not one note absorbed into the walls, they all just reverberated. Of course, they position us in the front row, right in front of the amps! But honestly, I couldn't help think of how pleased the Father must be. Don spoke on the history of the Reformation culminating in "every day is a good day." The other speaker spoke on the influence of the Reformation on culture. I think it went well; at the end they clapped.
As I mentioned when we were last here, the three amigos/pastors who jointly pastor The Nation of God Church work well together. I would say that Jose is the main pastor simply because he is the only one to not have a second job. They also jointly minister to two developing churches in other outlying towns. Alex preaches in the street every Thursday at one of those locations. They bought some plastic chairs and others bring their own every Thursday and they set them up in a vacant lot, and Alex explains the Word of God to whoever shows up. He reports that they don't want him to stop at the end of an hour! Then every other Sunday they hold a worship service in that town. They also run some sort of youth center as well.
This morning they were all present at the service. Things to note about the service: They incorporate children into the service. I'm talking little ones. The children bring forward the offerings and put them in a box in the front of the church. They also collect the communion cups as people finish and place them in the communion holder on a side table. During the service the children are allowed to move about. Jose's son, about 2 years old followed his father to the pulpit and Jose held him as he made announcements and read scripture. It was a visual of our children being a part of the visible church.
When it came time to sing, everyone got out their phones. There is an app of their hymn/song book that you can download. I'm going to see if I can get it. I can read/"sing" the words, many of which I can now recognize. That will really help me to participate in worship.
It was a lovely morning.
No day is complete without a bano story. Of course, I had to use the bano at church. And of course, it is in the front of the church behind a wall. And of course, the door does not lock. But a kind woman was standing outside with a ministry of watching the door. Sharp gal that I sometimes am, I immediately look for the toilet paper- Where could it be? Not on either side of the toilet. How about near the sink? The bathroom is only about 3 feet square. It had to be in there somewhere. . . . . . Darn, my traveling toilet paper is – in my suitcase which is somewhere on a joy ride to San Diego, California. So I exit the bano and get a strange look from the woman who guards the door. I try to explain that there was no toilet paper when she directs me back into the bathroom and points to a spot about 8" from the ceiling. Silly me, why did I not think to look UP. Mission accomplished.
Back to the suitcase – We have to do something. We arrived on Thursday. The baggage guy at Spirit said that they would put it on the next flight to Cartagena which would have been the Friday flight. So we were good. Said he'd call when the bag arrived. But when Friday came and went, and there was no call and no bag, it was clear that something went wrong. The number that the baggage guy gave us didn't work. I tried the on line run around which proved, as always, fruitless. The front desk clerk did reach someone at Spirit Cartagena who told him that they would call back in an hour, but, you guessed it, no call. Finally, I got a text from Spirit saying that the bag was in San Diego and would be in Cartagena today, Sunday. So after church we stopped by and picked it up. It was returned with everything in it, plus a new pair of men's swim trunks that are not Don's! What was that suitcase up to while I was waiting patiently?
Tomorrow, I wear a new outfit- and curl my hair. So, the Lord knows I need to be humbled. You will never know what I look like without some sort of curl in my perfectly straight hair that plasters to my head if I don't do something to it. I won't be seen in public like that. (Unless I have been swimming). So, I have attended a conference and gone to church in the past two days with my hair looking, well let's just say Bad. And of course, everyone wants a picture with Don and me. To be sure, I didn't ask anyone to forward one to me. To not add insult to injury, I did buy some base, lipstick and mascara to lessen the damage.