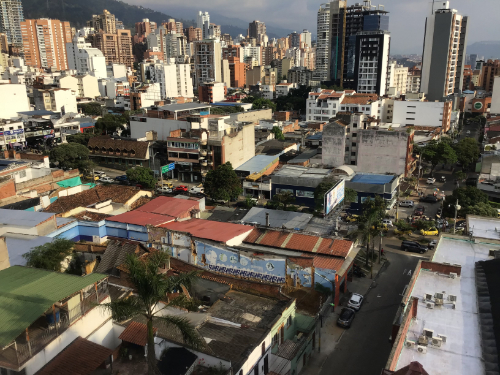 Toward the bottom of the picture you will notice two cars parked one behind the other.  Notice what looks to be a pile of dirt to the left of the black one.  Look closer. You will notice that it is an empty space with a gate or walled entrance facing the street.  Thus when you walk past this area you do not know what is behind entrance (unless it is marked on the outside).   You also have no idea how large the area is. That particular lot could go all the way back to the blue building.  Or someone could buy it and put in a 600  ft shop.  One time we entered a similar doorway and it was a multi level "mall."  
Javier is in the process of buying a home outside of Cali in the town of Jamundi. It will be ready in July, 2023. What he will be owning at that time is the shell with plumbing and electrical installed in a block structure. It will be stuccoed on the inside and outside. They will have to install the floors, cupboards, doors, appliances, bathrooms and of course furnishings. The painting will also be their responsibility.
Either commercial or private property can be expanded simply by either knocking out a wall or top ceilings and tying into the existing plumbing and electrical.
Today we were in a two story grocery store which is not uncommon here. The escalator was flat and accommodated a grocery cart. Their groceries are not cheap. A bag of beans $1.50; a can of tuna $2; butter about $4 lb; tea, 20 bags $ $2-4; bread isn't bad $2/loaf; fruit is cheap and beef crazy high, about $7-$8/lb. Eating out isn't bad, about 1/2 the cost of the US with a 10% tip.