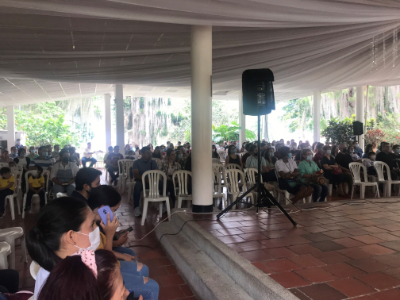 We had a great time this morning at the worship service. We had met several of the members of the "band" and others at the conference prior to this. So I was familiar with some of the people. I was also familiar with a couple of the songs from the service a couple weeks ago at SRL so I was able to enter into the worship.
 Three churches decided to meet together at a venue outside of the city.  Being at an even higher altitude than the city, it was cooler.  It was also surrounded by a rich display of flora and fauna.  Bright colored birds of red, yellow and blue called through the trees surrounding the open air building.  After the service we had the opportunity to walk the grounds and fellowship.  Typical, they served empanadas, this time filled with rice, chicken, corn and a slice of hard boiled egg.  The pocket itself is made of cornmeal and fried. They are a bit dry.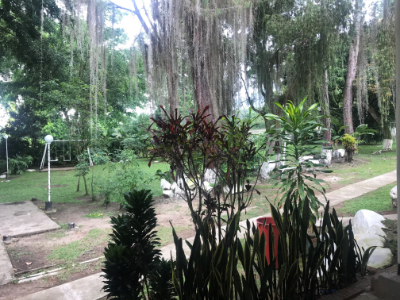 I met a girl in her 20s, married 3 years.  Both she and her husband were out of work during Covid.  They had no income.  I asked how she got by.  She quoted scripture.  I pressed for details.  Her widowed mother who had no income also moved in with them.  One day they were talking about only having food for 2 days.  Later that day she got a call from the neighborhood market who called to tell them that someone was going to provide them food for a month!  Another time a friend from  her old church called and said that she had something for her.  When she went to see her, she gave her money enough to pay for a semester of college!  She said that all through Covid they were provided for in all different ways.
The locals say that Covid has set the country back 30 years. It is going to take that long for people to build back up what was lost.
Political corruption, a long heritage here, is the greatest roadblock for the country's prosperity.  Last night when Don was teaching in one of the conference rooms at a hotel, there was another gathering in one of the other rooms.  The music was loud; the bass reverberated off the concrete walls.  At break time I inquired about the other gathering.  A girl told me that it was a political rally.  She explained that the candidates go into neighborhoods, often poor or lower income, and invite the people to a rally.  They are promised food and entertainment and a good time.  So on a certain day they send a bus or bus ticket to attend the rally. They get the band going to warm up the people then at the height of the rally the candidate walks in and preaches how he is going to make their lives better by giving them all sorts of benefits, how he is going to 'change things,"  Blah, blah, blah. . . . . (Nothing new under the sun).  Then they pass out pop and empanadas for everyone.  Sometimes they hand out money and a pre-marked voter cards.  The saying is "Colombian votes can be bought for the price of an empanada." Sure enough, I headed over during break time and there they were, packed into the room, empanada in hand!  
Tonight will finish our time here.  Don is teaching as I write this.  We should be done at 7:00 pm.  We're then going to go out with one of the church members and her fiance.  She speaks English.  
The restriction on entering the US is now you must have a Covid test 24 hours before your flight.  We got ours this morning and we're promised the results by 9:00 am tomorrow. So our prayer is that yes, we will get the results at the promised time and that they would be negative.  We are are having no symptoms.
Thank you for your prayers.  Please continue to pray and support our brothers and sisters here in Colombia and around the world.  It is an honor to be in the same family.
Glory to God!