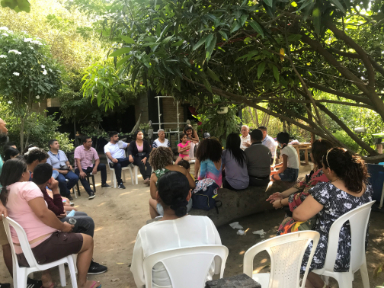 We had a delightful day.  It started with morning worship.  Some of the melodies I recognized and could pick up a few of the words.  They didn't have them on the overhead which really helps.  Nonetheless, it helped focus my mind on the Lord Jesus.  Don preached and when the sermon was over, everyone just sat there.  We thought that it was their tradition.  Later that day one of the Elders commented that the people were challenged by the sermon and sat there contemplating it.  It was a good and timely message about passing the faith to your children. 
After Sunday school and the service Pastor Edison told us that we were invited to the home of an Elder of another church in Santa Marta. So we went. It was an outdoor barbecue with 22 other people! I've shared with you before that when you open a garage or outside door, you never know what is lurking behind it. It could be a stadium, or someone's living room, a shop or parking garage. Well, we veered off a residential type road right onto a one way lane, 10" wall on one side, tropical woods lined ravine on the other. Suddenly the car stopped and we all got out and started walking across a bridge extending over a river. We were at our destination. There, tucked in the midst of this busy city was a plot of untouched jungle (except for the house). It is what they call a finca, or small farm. The term has morphed to mean any house that has any amount of land around it. (As compared to apartments or homes in the city that have no land).
The bridge leads to the front yard, complete with a pool, chicken coop, gym and barbecue.  Also in the front yard are papaya and banana trees. The home actually belongs to the Elder's daughter who was delighted to share it with Pastor Edison, his wife, daughter, her boyfriend and his son; Juan, our interpreter, his wife and son and our driver; an Elders wife from Edison's church (her husband was home sick from the Covid shot), and of course our host, his two daughters and son and their families; and oh yes, the cook, a friend of our host. Our driver, Robertson spoke English pretty well and Juan, our interpreter, was there so we were able to share a wonderful afternoon with them.  They then asked Don if he would share something with them, and he spoke more on the family but directed it mainly to the children.  If there is one thing we have learned while coming down here is that what you say is important, but what means the most to them is that we care enough to come.  It was expressed this way to us by Robinson, "when you come it gives us energy."  We have to say that it gives us energy too.