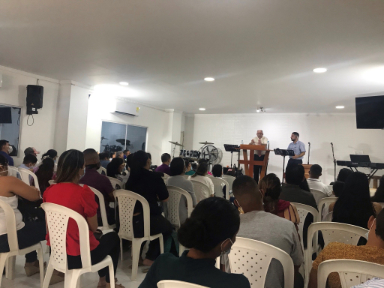 The interpreter will make or break a class.  It is a most difficult job.  He must have an excellent English vocabulary plus a broad theological vocabulary.  The combination is rare.  He has to be able to listen, comprehend, and immediately and accurately translate.  English to Spanish is not word for word.  Sometimes there is no Spanish word for what is being said.  To listen in one language and speak in another is a skill.  Immediately after speaking, (and sometimes before), he has to be ready to listen again.  The pace is fast; the brain power exhausting. And oh yea, he has to be on his feet for hours and try and put the same emotion into what he is saying as the speaker!  So we always pray for the interpreter 'cause it all rests on him.
The first night we were here a brave young man from Venezuela offered to interpret. It was painful for him – and Don. He was nervous and did the best he could. Some in the audience helped him at times. But the whole cadence was thrown off. The message had to be stopped often to get clarification, cutting down on the content of the class. While on break, I gave him a hug along with the old motherly advice that I give myself and my family- Stop, breathe in, breathe out.
Concerned for him and the class, the host church quickly arranged to have Juan, our interpreter from Santa Marta – two hours away by bus, come and interpret Friday and Saturday. This means that Juan is giving up his Friday night and Saturday with his family to come here and interpret again for Don, not to mention the 4+ hours of travel time. He is an excellent interpreter and servant. The picture is of him with Don.