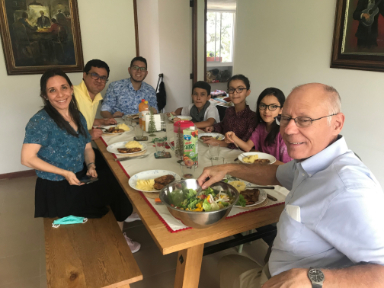 A full, blessed day.  We were picked up in the morning at by Jonathan, our assigned Uber driver who is also a farmer – cows and soon to be planting some sort of fruit.  He is a younger man, I'd say in his 30s (but I'm not good at judging ages anymore), with a wife who homeschools their two children.  He took us to the home of the Sepulveda's who sold their car to help buy an apartment and so could not pick us up. Both Carlos and his wife Sarah are Biologists but only he works outside of the home.   She homeschools their three children.  And yes, that is Don playing Apples to Apples with the kids while lunch was being prepared!  Sarah and the children speak English well.  Carlos isn't far behind. Benjamin from the seminary also joined us for lunch.  Both he and Sarah are originally from Bogota.  We talked about many, many things.  They are thinking of starting a sort of home school coop and they shared their vision of what that might look like and some of the hurdles. Don had to leave at 1:00 for the seminary, but I stayed until 3:00 and talked with Sarah.  She and her husband are both first generation believers.  When her children were younger, she was visiting her parents and had to spank one of the children.  Her parents turned her in to the authorities!  For one year they were monitored and had home visits, etc.  Her parents wanted the children to be taken from them!  It was a very difficult year of fear. And trust.  Along the way, an amazing thing happened.  Sarah got a call from a friend of her mother's who was a Christian Attorney and said that she would try and help Sarah.  Needless to say, Sarah's mother and the woman no longer speak.  When the day came for the verdict to be decided, they were at the government office for hours and the authorities could not decide what to do.  So Sarah's husband asked to speak to the judge.  With his Bible in his hand he laid it before the judge and said that the Bible is God's Word and in it are the instructions for raising our children which is what they did.  He spoke other words but one by one those in the courtroom began to leave and the judge ruled in their favor.  
Sarah of course had to deal with her feelings toward her mother. One day she heard a knock on the door and standing there was the pastor's wife who said that she had come to talk to Sarah.   She told her that she knew that Sarah had unforgiveness in heart and that could not be.  She shared scripture and prayed with Sarah who forgave her mother.  Fast forward to today – Sarah's parents brag about the grandkids and how well behaved, considerate, bright and respectful they are!  And they are!  The two girls entertained me with the songs they have learned this year on their violin and piano.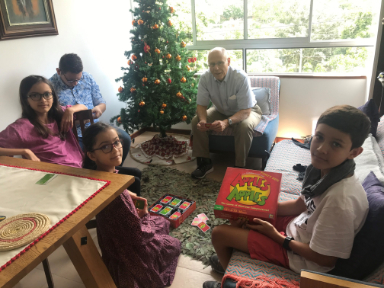 I don't know what kind of church Carlos and Sarah came from when they first started attending.  She told me that they were hearing some things from the pulpit that didn't sound right but they didn't know why.  They were praying that the Lord would lead them to another church. Prior to that time Benjamin sent them a link to a conference on Covenant Theology going way back where Don was a speaker.  When she first heard the teaching, she said "he is crazy."  But the more she listened, the more it made sense.  She shared it with her family and they began looking for a church that believed these doctrines.  She has kept that link after all these years and I share the screen shot with you below.  That is why we are here today.  That is what keeps us coming back.