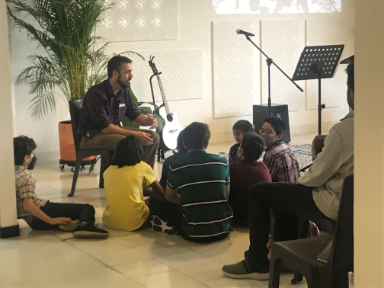 Two wonderful days with Anderson Ocompo and his family. Yesterday we went to his pastor's house, a PCA missionary and his family. They live in Rionegro, an expanding area on top of the mountains, about 50 minutes from where we are in Medellin. As we zipped along the winding mountain road, we passed road signs, bright yellow like ours, for – snakes, what looks like a rabbit, and get this, a parrot! Think about it. . . . . . . . . . . . . . . .
In Rionegro are two Universities and lots of young families. His pastor came with another missionary who hopes to work with college students. It was obvious from our time with them that they are gifted and burdened for the work they are doing. They graciously and casually opened their home to us as we spent the afternoon talking about their journey and what God is doing in Rionegro. It is exciting as things are moving along much more quickly than they imagined! Very soon after arriving, people began to attend the church which was located in their converted garage. They just moved into a spacious building which has rooms for Sunday school classes, a small kitchen, meeting and other rooms. It is centrally located with great visibility. Everyone is thrilled. Each week it is growing. They are doing a lot of one on one in their home, answering questions, explaining the gospel, and introducing Reformed Theology. How exciting is that!
Sunday, today, we actually got to go to the church service. People were very friendly, some spoke English. Everyone hung around for quite a while after the service talking and having coffee. We stayed too and then went to Anderson's home where his wife Tatiana and her mother prepared a delicious meal of tasty chicken, cilantro potatoes and seasoned vegetables. It was a great day!
So, now we are ready for bed and I'm going to close. Love you all.
The picture is of Anderson's pastor, Nate Bonham, giving a brief children's sermon on the same scripture that he was preaching on so that the children could better understand his sermon.