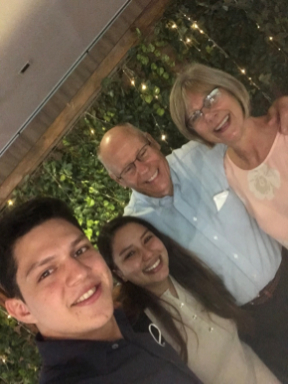 Lots of good news from Medellin. Don is sleeping well. THANK YOU for your prayers. The preaching went well in both services – a strong charge to the church to pass on the faith to the next generation. The blessings began as soon as we entered the building. I saw Felix, a former student now a graduate, teaching Sunday school to a large class of preschoolers. Part of the goal of the seminary is to send the students out to go into the ministry and serve in churches. So to see him again, all smiles, serving in that capacity made me want to shed tears of joy.
I was also able to give hugs and hold a sister whom we met years ago when she was helping out at the seminary. If you remember, she had a young son whom I played games with. He is all grown now and I always look forward to hugging her each time we are back.
If you remember the two little girls who came with their parents to one of Don's seminars several years back, they greeted us as soon as they walked in. Their father invited us to come to their home some time this week. That will have to be arranged by Benjamin, the video guy.
Benjamin is an invaluable asset to this ministry. He does all of the video tec stuff here. He is just about done with his degree at the University and has learned a lot! He tapes all of the classes, creates the introductions along with music and makes them really professional. His past week there was a virtual Reformed Conference with a number of highly qualified teachers that was attended by over 200,000 participants all over Latin America and the states! The Reformation down here is literally like a sweeping fire!
So I'm going to give you an update on Steven, our "driver" the last time we were here. We were here during the exciting time of him asking to date his now wife and their first times out together. What fun it was. We met with them this morning and caught up during the two hours we had together. We were so encouraged! They are doing very well! He is leading them in family Bible studies and she is loving it. They decided to go through the attributes of God and apply them to the way they love each other. It was so fun listening to how they are helping each other to grow together and in Christ. The main outcome-their sanctification. So excited about what they are learning, Steven is going to do his seminary graduation thesis on the topic of the attributes of God and how they apply personally to marriage. I hope he translates it into English! He is working as a customer service supervisor. Their hope is to graduate from SRL and go to Nueva Providencia together so she can learn as well as he. Nueva Providencia also has a practical leg to their program in that the students are involved in evangelism in the Nueva Providencia area and two required mission's trips, one outside the country and one inside the country.
A story of God's use of Covid: So, for quite some time the students of Nueva have been going into the towns around the seminary and having Bible study with children and young people. The parents love it because it is free baby sitting. During covid they went and distributed food. As a result, some of the parents started coming and several have come to Christ!
I'm realizing that this is getting long, so I will end it and continue later.
Photo: Steven & his wife Majorle